Virgin Radio RedFestDXB FAQs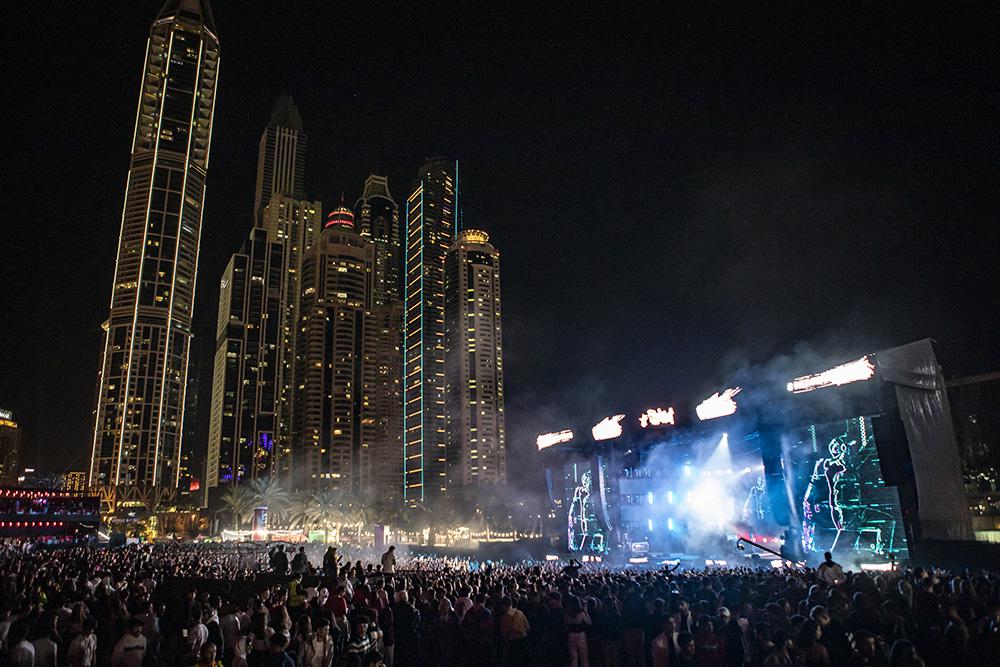 1. What is the official event title:
OJ Lifestyle presents VIRGIN RADIO REDFESTDXB 2020 in association with EMIRATES AIRLINE & Splash
2. What date is the event?
6th & 7th February 2019
3. Where is the event happening?
Dubai Media City Amphitheatre
4. What is the event all about?
UAE's annual #1 Hit Music Festival, back for the 7th edition in February 2020.
5. What time is the event?
Thursday 14th – Doors open at 7pm, Friday 15th – Doors open at 4pm. Doors close at approximately 1 am on both nights.
6. Is there any other entertainment during the event?
Food and Beverage village, and a sponsor activation area with plenty of fun and engaging activities.
7. Is the event seated? Or standing?
Standing in Red Fan and Red Pit; limited seating available in Red Zone and Red Lounge.
8. How much are the event tickets?
Category
AED
RedFan Single Day
Standing, equivalent to a general admission ticket, access to RedFan only
395
RedPit Single Day
Standing, gets you access in front of the stage as well as access to all RedFan areas
695
RedLounge Single Day
Premium views with limited seating, as well as access to all RedFan areas
595
RedZone Single Day
Premium VIP lounge with limited seating and all-inclusive food and beverage offering throughout the day; access to RedLounge and all RedFan areas
995
RedFan Weekend (2 day ticket)
Standing, equivalent to a general admission ticket, access to RedFan only
695
RedPit Weekend (2 day ticket)
Standing, gets you access in front of the stage as well as access to all RedFan areas
1195
RedLounge Weekend (2 day ticket)
Premium views with limited seating, as well as access to all RedFan areas
1000
9. Are there special children ticket prices?
No, children under 2 get free entry with a valid ID
10. Specific artist or performer line up?
Check this years line up here
11. Where can I buy the tickets – official ticketing partners?
PlatinumList.net – Online, Virgin Megastores – Online & Retail, BookMyShow.com – Online, 800 Tickets – Online
Please only purchase tickets from RedFestDXB's official ticketing partners.
12. Is there a minimum age for the event?
No age limit – all ages event; 12 years and under must have a parent or guardian present; children under 2 get free entry with a valid ID
13. Are there transport services for the event?
No
14. Can I buy tickets at the venue on event day?
Yes (subject to availability), buy ahead to avoid disappointment
15. How can I receive my tickets?
All customers will be sent an email confirmation for the purchase of their tickets if purchased online through Virgin Megastore of PlanitumList.net
Virgin Megastore: Purchase on ground at any Virgin Megastore in the UAE to receive physical tickets.
16. Why are there barcodes on the ticket?
All tickets have a uniquely encrypted barcode to validate entry and allow detection of counterfeit tickets.
17. Is there a limit as to how many tickets I can buy?
No
18. Are there any refunds or exchanges?
Once you purchase the ticket, it is a condition of sale that there are no refunds, cancellations or exchanges. By purchasing a ticket, a customer is automatically accepting all terms and conditions on the back of the ticket. Attendees are encouraged to read the terms and conditions prior to entering the venue.
19. Are tickets transferable? If I have a ticket and I'm not able to attend, can I re-sell them?
No
20. What credit cards can you use?
VISA and MasterCard are accepted online; and VISA, MasterCard and Cash are accepted at all Virgin Megastores on ground
21. What if you lose/destroy/damage you ticket?
The Organiser will determine the nature of the problem, and if your tickets are replaceable, they will instruct you as to where and when to pick up your replacement tickets. Replacement tickets can only be picked up by the Credit Card holder with the original credit card used in the purchase.
The replacement of any tickets automatically cancels and voids the previous barcoded ticket.
22. Are cameras allowed into the venue?
No professional cameras or video cameras will be allowed into the venue. No cameras with any zoom attachment will be allowed into the venue. A camera deposit box at your own risk will be available and Organiser bears no risk or liability for loss/theft/damage.
23. What can't I take into the venue for the event?
Aerosol cans, chains, studded bracelets, glow sticks, coolers or ice chests, furniture, fireworks, flares or smoke bombs, illegal drugs, laser pens and pointers, noisemaking devices (whistles, air horns, etc.) food and beverage, poles to display banners, flags, etc., professional cameras, video or recording devices, weapons and any other items deemed to be inappropriate or dangerous by The Organizer.
24. Will there be food and beverage at the venue?
Yes, food and beverage will be made available for those who wish to purchase.
RedZone ticket holders will have access to food and beverage in the lounge.
25. How can I get to the venue?
By taxi, tram, bus, metro
26. Where is the venue located?
Dubai Media City, across from Media One Hotel
27. Is there parking available during the event?
Yes, limited paid parking is available around the venue.
28. Can I leave the venue and come back?
STRICTLY NO READMISSION policy applies. Once you enter the venue, and tickets are scanned customers cannot leave and re-enter.
29. Is there wheelchair or disabled access?
Yes – a disabled viewing platform will be installed.
30. Additional Information
• There will be a 100% bag search at the gate. Avoid bringing a bag if you can.
• Body checks may take place by a member of Dubai Police.
• Selfie sticks are not allowed and will be confiscated.
• No beverage or food including water will be allowed as a carry on (there will be plenty of F&B to choose from within the event).
• No dogs or pets allowed.
• Weekend ticket holders will be given a wristband upon arrival each day. You will need to show your e-ticket print out or receipt on your mobile phone on each day of the festival.